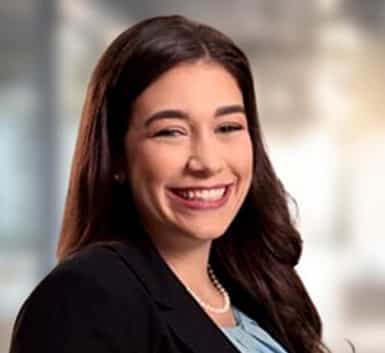 Amy Whitelaw
Attorney
Amy Whitelaw graduated from the American School of Public Affairs in 2012 with a degree in Interdisciplinary Disciplinary Studies: Communications, Legal Institutions, Economics, and Government (CLEG). From there, she kept moving south and attended the University of Richmond School of Law where she received her JD in 2015.
I am most proud of only ever representing individuals and people who have been hurt through no fault of their own in delivery truck and Amazon delivery vehicle accidents. My entire career has been focused on providing justice to those who have been hurt.
The one case that most recently comes to mind involves a father trying to cross the street in his motorized wheelchair. It was dark and a driver wasn't paying attention after a long night of work and hit our client, killing him. Other firms reviewed the case and they and the insurance company determined our client was at least partially at fault and his family would be unable to recover. After an extensive investigation and an aggressive demand letter to the insurance company, we were able to recover the full amount of the policy limits to provide for the client's children. While it wasn't nearly enough and would never replace the loss of their father, I was honored to play some small part in helping the family receive justice.
THE BIGGEST LESSON I'VE LEARNED IS THAT WHILE YOU CAN'T ALWAYS GUARANTEE YOU'LL BE THE SMARTEST OR MOST TALENTED PERSON IN THE ROOM, YOU CAN GUARANTEE THAT YOU'RE ALWAYS THE MOST PREPARED.
I grew up in Buffalo, New York as the middle of three sisters. My dad ran his own Vending Business that had video games, payphones, and ATMs.  My mom was a stay-at-home parent who helped dad run his business and was heavily involved in our lives as a room parent, PTA president, and girl scout leader.  We were active in all sorts of school activities, most heavily in the music department.
My parents have been the biggest and strongest influences in my life. Dad was always working hard on his business, adapting and changing to the times.  He taught us about hard work and ambition.  Mom was always giving her time and energy to others around and worked hard to make sure our schools were great places for everybody. Both of my sisters live in Las Vegas, Nevada. My older sister, Lori, is an events coordinator for a hotel on the Las Vegas Strip and my younger sister, Dana, is a geologist who works for a construction company.
I have a three-year-old son, Marc. My son is the best thing that's ever happened to me, he teaches me patience, kindness, and unconditional love every day.
In my spare time, I enjoy reading any book I can get my hands on, playing outside with my son, and cheering on the Buffalo Bills and Buffalo Sabres. Time permitting, I'd definitely love to travel more
I am a member of the following professional associations:
Active licenses to practice law in: Virginia, Georgia